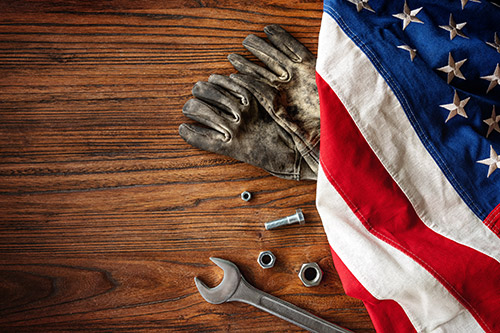 Hello and welcome back to our Manor Lake Assisted Living & Memory Care blog. Today we turn our focus to the upcoming Labor Day weekend and how all of you providing assisted living care and/or memory care support services to a loved one.
Labor Day is more than just an annual holiday that marks the end of summer. The original intent behind creating this federal holiday was to honor "the contributions that workers have made to the strength, prosperity, laws, and well-being of the country." And who are the often-overlooked workers that need to be included in the celebrations this year? Caregivers of aging parents.
Family caregivers are typically underappreciated and underpaid. In fact, according to data collected by the Family Caregiver Alliance, there are approximately 34.2 million people in America currently providing unpaid care to aging parents. The economic value of these services was found to total nearly $470 billion in 2013, and that number is expected to rise in coming years.
As someone caring for elderly parents, you can't ever really take a day off...or can you? Here are some reasons why you should consider taking a break this Labor Day:
Caregiver Burnout Is Real
When you are caring for elderly parents on a regular basis, you run the risk of developing caregiver burnout if you don't take time to recharge your batteries from time to time. Burnout can manifest itself in different ways, according to WebMd, including:
Withdrawal from friends and family


Increased irritability and anxiety


Feelings of hopelessness, sadness


Changes in sleep patterns


Lowered immune system, getting sick more often


Emotional and physical exhaustion


Caregiver burnout affects both your physical and emotional health, and can even lead to strained relationships with a spouse or close friends. But there is hope: caregiver burnout can be prevented by creating boundaries and carving out more time for yourself.
Practicing Self Care Can Help You Recharge
Self-care for caregivers is so important for your ability to care for aging parents over an extended period of time. Indulging in some "me-time," whether that's a long weekend at a bed and breakfast, a quiet hour to read a book, a commitment to exercising regularly or even just a warm bath at the end of a long day can help preserve your mental and emotional health when caring for elderly parents.
WebMd sums it up nicely, by reminding caregivers that "taking care of yourself is not a luxury; it is an absolute necessity if you're going to be an effective caregiver."
All of us here at Manor Lake Assisted Living & Memory Care here in Ellijay do everything we can to make sure all seniors and their families feel comfortable, happy, and at ease as a cherished member of our community.