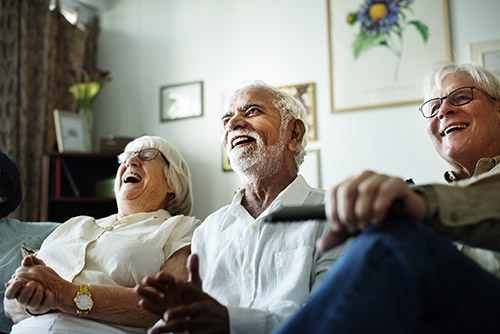 Getting swept up on a great television series can make us laugh, provide a shared interest with others, or simply forget our worries for a little while. Streaming services, like Netflix, Hulu, Amazon and Disney+, offer an enormous variety of options for television (as well as movies) but it might seem like these services target only younger people. In fact, seniors are likely to find many shows they enjoy. We're here to help by recommending a few streaming TV shows for older adults.
Note that some of these shows air on network television or cable, but can be watched using streaming services for more choice and flexibility.
Why Streaming TV Shows is a Great Form of Entertainment in a Senior Community
For our assisted living community residents here in Ellijay, the need for readily accessible entertainment, like a streaming service, is important, especially when:
Their mobility is limited, either temporarily or long term
There's a need to maintain physical distance from others
The weather limits enjoyment of the outdoors
Unlike "regular" television, streaming services allow someone to watch an episode or two whenever it's convenient. Many seniors like the ability to pause for short breaks or rewind if they miss something. They can even make plans to watch a show at the same time as a friend or family member, to share the experience.
There's also evidence that our memory care residents here at Manor Lake Ellijay can benefit from the social context of watching TV with people who are close to them.
Scripted Shows Featuring Complex Senior Characters
The term "scripted television" came into fashion to differentiate shows that tell stories from reality shows. Scripted shows include comedies or dramas or, increasingly, a mix of the two. Comedies are an especially good choice for when it's time to unwind. A 2014 research study even concluded that "laughter therapy" improves the general health of seniors.
One of the biggest changes streaming television has brought to the industry is diversification of stories and characters. There is more representation than ever of different ages, abilities, ethnicities, gender identities and other traits. Gone are the days when most senior citizens on television were caricatures — the overbearing mother-in-law or the cranky next-door neighbor, for example. Senior adults are more often portrayed on TV as having rich inner lives with hopes and dreams as well as flaws. The following are just a few examples.
Grace and Frankie (Netflix) — Comedy starring Lily Tomlin and Jane Fonda
The Kominsky Method (Netflix) — Comedy starring Michael Douglas and Alan Arkin
Hot in Cleveland (Amazon) — Comedy starring Wendy Malick, Valerie Bertinelli, Jane Leeves, and Betty White
Homeland (Hulu) — Drama starring Mandy Patinkin and Clare Danes
Trust (Hulu) — Drama starring Donald Southerland
Period Dramas and Comedies
Many popular streaming series are set during different time periods, often with no expense spared with regard to sets, costumes and music.
The Crown (Netflix) — Drama set in 1947 to present-day United Kingdom
Downton Abbey (Amazon) — Drama set in early 20t-century United Kingdom, starring Maggie Smith
The Marvelous Mrs. Maisel (Amazon) — Comedy set in 1950s New York, featuring Tony Shaloub
Turn: Washington's Spies (Netflix) — Drama set during the American Revolutionary War
The Great (Hulu) — Satirical drama set in 18th century Russia
Game and Reality Shows
Game shows and reality competition shows can provide excitement, humor and insight into different hobbies and interests. These are some popular ones.
Betty White's Off Their Rockers (Hulu) — Celebrity-fueled prank show
The Great British Baking Show (Netflix) — Hugely popular reality baking competition
The Big Flower Fight (Netflix) — Competition among florists
Forged in Fire (Amazon) — Competition to make swords and other weapons
Jeopardy! (Hulu) — Every episode since 1965
Documentaries
Planet Earth and Planet Earth II (Amazon) — Stunning video narrated by Sir David Attenborough
Five Came Back (Netflix) — Stories of U.S. film directors working on the front lines of WWII
The Imagineering Story (Disney+) — Behind-the-scenes looks at all the Disney theme parks
Bobby Kennedy for President (Netflix) — Four-part series about his candidacy
The Story of Film: An Odyssey (Hulu) — 15-part series about the history of film
Classic TV
Sometimes the "best" television shows are the ones from our youth. From I Love Lucy (Hulu) to Star Trek (Netflix), any classic show you ever loved probably lives on a streaming service now. Watch it again in its entirety or just your favorite episodes.
You can always talk to friends and family for additional show recommendations, but we think some of these will give you a starting point to find your new favorite streaming TV series. Here at Manor Lake, our goal is to meet the needs of all our residents, from their medical care to the little things they enjoy doing each day. Get in touch to learn more about life here at Manor Lake Assisted Living and Memory Care here in Ellijay.