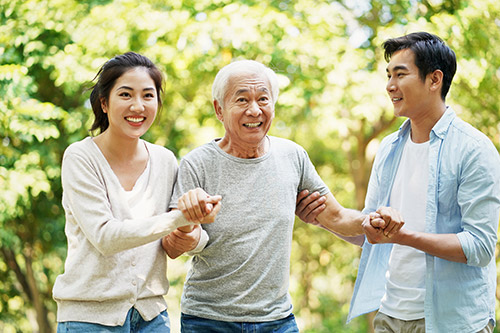 Spring is in the air! Staff and cherished residents alike here at Ellijay's Manor Lake Assisted Living and Memory Care are taking moments to smell the roses. Well, roses aren't in bloom just yet, but you get our drift. Whether your loved one resides within our senior assisted living community or our memory care community, it's time to think about engaging with your loved one in some form of healthy and fun outdoor activity. We have some ideas for you that fit perfectly with what we try to accomplish here in our senior living and memory care blog. Of course, that is to promote a celebratory quality of life.
These recommendations of course go out to you at-home care givers because few, if anyone, understand and appreciate your labor of love and commitment to our cherished seniors out there across the country. So here goes.
Recommended Outdoor Activities for Seniors
Gardening: Spending time in the garden is an excellent physical exercise and many people find it relaxing and fulfilling. Gardening is a great way to spend time in the natural light, fresh air, and greenery. In addition, recent studies have uncovered the many benefits of getting your hands dirty. According to J E Public Health, "Earthing (or grounding) refers to the discovery of benefits—including better sleep and reduced pain—from walking barefoot [or having your hands in the dirt] outside."
Walking: Some light walking in the evening or early morning can be refreshing. Walking also keeps the body fit and active in older adults. A leisurely stroll after dinner can help keep your digestive system running smoothly, too. Doctors are quick to recommend walking as an outdoor activity to many seniors because of the many benefits.
Golfing: Now, we're not necessarily recommending buying new clubs for your senior loved one, but if you golf, consider having senior ride along with you out on the course. The game is played in a beautiful setting with abundant fresh air. Riding along while you and your friends play golf will provide both physical and mental health benefits.
Fishing: This kind of goes along with the notion of "playing" golf as described above. You don't need to put your Mom or Dad in an off-shore fighting chair, but how about a chair next to you and their grandchildren while you fish for a few perch or two.
Photography: Capturing beautiful photos of nature is a wonderful way to spend time outdoors. Photography can be a relaxing activity for seniors. It is a great way to get outside and enjoy natural sunlight and the serenity of nature. Photography can help you appreciate the smallest details of nature, too. It is said to stimulate the brain and improve cognitive and emotional health.
Picnic: Picnicking with your family or friends is a great way to spend time outdoors. A nice meal and lots of natural Vitamin D are both great health-boosters for people of all ages, but especially seniors. As a bonus, arrange for some games post-meal, such as horseshoes, cornhole, or croquet. And remember, you don't have to set the playing field up at regulation. Shorten the field for them.
Oh, and while you do these things, don't forget to smell the roses! And never forget, here at Manor Lake Assisted Living & Memory Care, we deliver senior assisted living and memory care services in a loving environment as if you all are our own biological family.