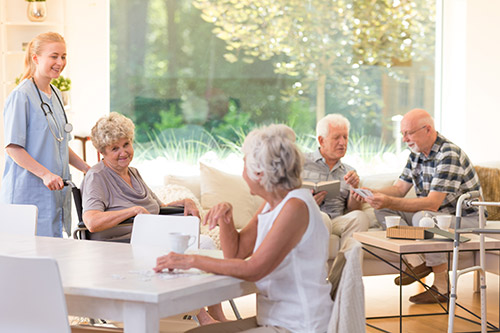 If there's one thing we've learned from professionally serving seniors, it's that they are all unique. Here at Ellijay's Manor Lake Assisted Living and Memory Care, time has taught us to never underestimate the power of the individual.
Today's senior has evolved away from the one-size-fits-all model. Savvy older adults are wanting more control over their lives and are demanding convenience and choice. That's why the Manor Lake philosophy is to create a lifestyle completely customized to each individual's needs.
It starts by asking a lot of questions when residents first move to one of our communities. We then aim to suit each individual's style and needs and encourage aspirations. Resident needs are at the heart of whatever we do. We're united for you – the individual – and your best interests.
TELL US YOUR STORY. WE'LL MEET YOUR NEEDS.
Once you move into our community, we'll ask plenty of questions to get to know you so we can make your life right for you in every way.
Think of it as a senior needs assessment – only more personal. It's customized with details that pertain only to you. This collection of facts, preferences and stories about your life will form both the basis of our friendship with you and your lifestyle plan. This information is then used to create a uniquely relevant experience for you, where your needs are met in a style that suits you.
You want to eat lunch in your room instead of the dining room? Done. Would you like to invite a friend for tea and cookies in the lobby? Will that be hot tea or iced? Do you want your haircut appointment to be every other Wednesday or every single Thursday?
WHAT DO OLDER PEOPLE NEED?
Learning more about your history, priorities and unmet needs helps us identify the programs, amenities and services that will best support your lifestyle. It also helps us enhance our assisted living active lifestyle offerings for every member of our community.
Whether your focus is upon assisted living support services or memory care support services, know that we are, and will always be, just a phone call away. Contact us anytime.