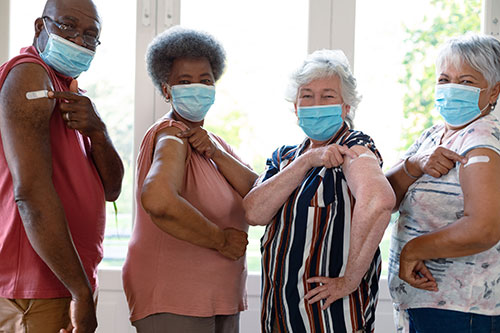 In the past year, Americans across the nation experienced toilet paper, food, hand sanitizer, and paper towel shortages. Some industries were put at extraordinary risk due to short supply of vital staples. The Assisted Living and Memory Care support providers were arguable at the top of the list for the supply shortages. But our stubbornly dedicated staff here at Manor Lake Assisted Living and Memory Care here in Ellijay went above and beyond to prioritize and deliver the level of comfort and safety that our beloved community members deserve.
It was humbling to see the entire staff work steadfast to keep morale high when some residents were feeling isolated from their family and loved ones. We'd like to thank and congratulate our entire heroic team as 2020 revealed far more triumphs than struggles. From creative ideas for programs that kept our resident family socially engaged to our COVID-19 testing protocols and safety strategies, the team deserves a standing ovation for their incredible work over the past year.
Adapted
Throughout the year, Manor Lake kept both our Assisted Living activity calendar and our Memory Care activity calendar filled with safe and fun activities that kept our community engaged and content through the difficult (and sometimes isolated) times. They were quick on their feet when it came to implementing the latest safety guidance. They were always one step ahead and making sure the community didn't run out of critical supplies like masks, toilet paper, and other hard-to-find PPE and supplies. We implemented rigorous testing strategies and screening questions for the team and community that helped keep the virus in check within our walls.
Our amazing team did all of this with a smile while remaining calm, cool, and collected.
Connected
Along with the rest of the world, we became familiar with video conferencing technology. Our activities team was quick to get residents set up to engage with their families and loved ones when visits became impossible to arrange. Additionally, the team kept residents active with fun indoor games and fitness activities.
Protected
As the COVID-19 vaccine became available, our team rolled up their sleeves to make our first clinic happen as quickly and seamlessly as possible. Our resident family and team received their first round in January and the second set in February. We are so grateful to have had the opportunity to add an extra layer of protection for our community and we are hopeful for the future!
As busy as we were here in 2021, we've already rolled up our sleeves in anticipation of 2022 and the privilege of finding new and creative ways to deliver a genuine and ever-improving quality of life experience here at Manor Lake. Our warmest Holiday greetings to you all!