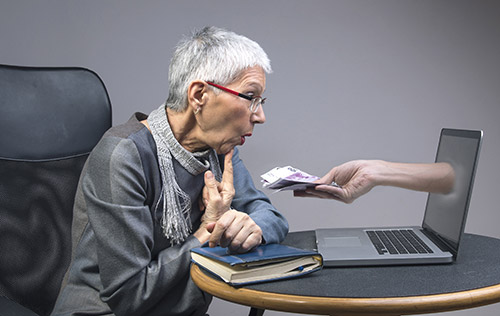 We often hear horrible stories from families concerning an elderly loved one who was short-changed or downright scammed, financially or otherwise. Our caring professionals here at Ellijay's Manor Lake Assisted Living & Memory Care focus this blog post on the topic of con-artists and scammers of all stripes. While this blog post is geared towards the senior community, it is certainly germane and relevant to folks of all ages. It certainly applies to all of our faithful blog readers whether your providing assisted living and/or memory care support. So let's discuss the very real risks out there.
Con Artists
Safeguarding your money, your assets and your identity from theft and fraud.
Con-artists come in different shapes and disguises, but the objective is always the same!
This clever actor charms elderly victims by phone with an affable "nice guy" approach. Deceptive and dishonest, this tele-trickster is the last person you would want to invite into your home! You're right if you guessed… he's a con artist!
According to the U.S. Congress, Americans lose an estimated $40 billion each year due to the unethical activities of fraudulent "salespeople." Con artists will try to take money as well as property and other valuable assets. Sweepstakes tend to be the most prevalent of all con artist scams but they might also be disguised as home improvement deals, real estate investments, inventions, or even false charities. Knowing how to spot these scams will help you identify a con artist and may someday save you from heartache and financial disaster.
What's the deal?
Most people are not likely to fall for a scam if it actually sounds like one, so these phony deals are usually disguised as something else:
Something for nothing
A legitimate sweepstakes
A free gift
A free gift
A new you (youth and/or beauty)
A sure cure
High profits at a low risk
A chance to make a quick buck
Watch the pitch
Most con artists use key words and phrases to make you feel important or to pressure you to act quickly. For example:
"You have been selected as one of ten finalists for our sweepstakes offer."
"As a senior citizen, you have already been pre-approved."
"This is not for every one, so keep it a secret."
"Cash or credit card only, no checks."
"You must decide now. If you hang up, you will lose this opportunity."
Common scams and frauds
The object of any con game is to get you to part with your money. Most of these scams are initiated by people who approach you on the street or call you at home. Be suspicious of ANY plan, idea, scheme, or so-called business deal that requires you to give money – or access to your money – to a stranger. Here are some of the more common scams:
The Bank Examiner
Someone calls you claiming to be a bank examiner or police investigator who needs your help to catch a "dishonest" bank employee. He usually asks for your account number and account balance. He may tell you that the bank records show a much smaller balance and that he suspects a teller must be stealing the money. He asks you to withdraw a large sum of money from your account and give it to him so he can do an audit or check serial numbers, after which the money will be re-deposited. Of course, you never see him or your money again.
Door-To-Door Sales
Often times con artists will try to get you to subscribe to a magazine or offer a cure for a medical condition. They may also offer a free inspection of your home for problems with your furnace, hot water tank, appliance, or garage door. Whatever the con artist has to offer, simply say no and report them to your local police. More than likely they need to have a solicitor or business license of some type from your local city hall in order to conduct such door-to-door business. The con may even have an I.D. that appears to have been issued by your local government office. Check it carefully.
The Fake Lottery Ticket
Someone with a foreign accent approaches you on the street and tells you he has a winning lottery ticket, worth $100,000 or more, but he cannot cash it in because he is not a U.S. citizen. He even verifies the winning numbers by calling a number and letting you listen to a phony recording of winning lottery numbers. He offers to sell you the ticket for just a few thousand dollars. You jump at the chance to make such easy money and help someone out at the same time. Of course the lottery ticket is worthless and you have lost your money. (Someone close to me actually fell prey to a similar scheme.)
Home Improvement Scheme
A man drives up to your house in a commercial van or pickup truck, dressed in workman's clothing. He tells you he has just finished a large roofing job (or driveway resurfacing, etc.) and has some materials left over. He tells you he will use the leftover materials to repair your roof, driveway, or other repair work, at a large discount. If you agree, he will do a quick, shoddy job with cheap material.
The Phony C.O.D. Scam
The con artist will scout a neighborhood to find an unoccupied home, then check a city directory to find out the homeowner's name. Armed with this information, he will fill out a phony shipping label and apply it to a box of rocks or other junk. Returning to the house dressed as a delivery man, he will knock or ring the bell, properly setting the stage for his next act. Getting no answer, he will go to a neighbor, you, and ask that you accept the package and pay the C.O.D. fee.
Credit Card Fraud and Stolen Identities
These days you have to be especially diligent in safeguarding not just your credit cards, but your identity as well. It is very easy for a criminal to steal your good name and then proceed to destroy it, leaving you with a pile of debts and scores of angry creditors. Identity thieves often search through people's garbage to find what they need to assume your identity. Even something as innocent as old discarded phone or utility bills can put you at risk. Con artists use these documents to obtain a phony ID with your name and their picture. Then, they can go all over town applying for credit cards in your name and running up big bills. Thieves also steal from mailboxes. New checks and credit cards are favorite targets. Also, if you leave bill payments out for the mailman to pick up, this mail can be stolen and your checks "washed" to remove dollar amounts and payee information. Your signature is left untouched. The crook then makes the check out to a phony name for a much higher amount and cashes it.
The Funeral Chaser
Shortly after a relative dies, someone delivers a product to your door that the deceased allegedly ordered before his or her death. You may even get a bill for an expensive item along with a request to make the final few payments. This scam artist uses newspaper obituaries to prey on bereaved families. Please understand that you are not responsible for anyone else's purchases. If a claim is legitimate, the estate will settle the matter.
Medicare Number Theft
Since many seniors rely on their Medicare health insurance, it's no surprise that many elder fraud scams originate from that source. Often, fraudulent medical equipment companies offer free supplies to unsuspecting seniors in return for their Medicare numbers. However, the patient's doctor is required to order and sign for all equipment and products before Medicare will pay for them. The most important tips when it comes to spotting health insurance fraud include:
Never sign a blank insurance claim form
Never provide unchecked medical authorization for billing purposes
Always thoroughly review Medicare's terms of payment
Never give out your Medicare number to a person you don't trust
Confirm with your physician if you're unsure of a product that's been ordered
You do have choices
If the sweepstakes offer, deal or business opportunity sounds too good to be true, your instincts are probably correct. If you're not interested, hang up the phone! However, if you believe an offer is legitimate, take steps to protect yourself and those close to you:
Be careful of all sweepstakes that attempt to lure you with words like "finalist" and "grand-prize."
Don't be swayed by a free gift or offer and make sure to always check references.
Take notes, including date and time of calls, callers' names and any peculiar statements or conditions.
Don't give out your credit card information unless you made the call.
Don't give out checking account numbers or send money by messenger or overnight delivery.
Talk to someone – your lawyer, accountant or banker – before making a financial commitment.
Read before you sign. Do not sign anything you have not read and understood.
Before agreeing to buy the latest healthcare cure, call your doctor or local medical society to check out the salesman and product.
Save all documentation, including letters, postcards, telephone bills, canceled checks, ATM cards, credit card statements and mailing envelopes. Should you discard anything, make sure to shred it first.
Avoid answering machine greetings like "We're on vacation" or "We're not home" and if you live alone, don't volunteer the information. An ideal recorded greeting is "We are sorry we can't get to the phone right now…"
If you have any questions or concerns regarding how to provide fraud free loving and safe care for your senior loved one, contact Manor Lake Assisted Living and Memory Care here in Ellijay.