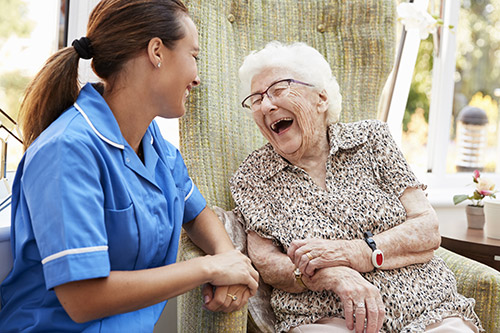 As always, welcome back to our senior living & memory care blog where it is our passion to assist our assisted living residents and family, our memory care residents and family, and of course to all of you at-home caregivers as well.
Some of you at-home care givers simply need a break from caregiving and have a hard time both finding and building trust with prospective temporary care givers. While this blog post is primarily focused upon how to qualify professional care providers like us here at Ellijay's Manor Lake Assisted Living & Memory Care, many of the same considerations apply to you at-home care providers, and we hope this helps you as well.
How do I qualify a care team to take care of my loved one?
"How do I qualify a professional care team to take care of my loved one?" This is a question we hear often when a person is searching for the best situation for their senior loved one's care needs but are struggling with guilt and uncertainty.
When considering a move to assisted living or memory care, it is important to get to know the people caring for your loved one. Ask about team culture. Take the time to share a bit of yourself with the care team. You may find they become a valued friend to you and your family.
The caregivers who care for your loved one spend a lot of quality time with them, quickly becoming a care partner with them. However, for family members who do not have that same quality time, there are still ways to connect with care teams so that you can feel secure in the care decisions for your loved one.
ON THE TOUR
The first part of feeling comfortable with making a care decision is in the tour process. You will have time to see how care teams engage with current residents. The following ideas may help you in your decision process as to whether the community you are touring is the right fit for your loved one:
How are the caregivers engaging with the residents? Do you see a friendly familiarity? Are they respectful?
Say hello to a caregiver and ask a question of them! When touring, if you see an opportune time, introduce yourself to a care team member, housekeeper, or server. Ask them about ways that they get to know their residents and how they personalize their care.
Discuss with the administrator what the company culture is like there at the community. A happy team is often a sign of an engaging community.
AS YOU VISIT
Once you have made the decision for a care community, you have several opportunities to connect with your loved one's care partner. Some suggestions:
When you visit, check in to see which care members are caring for your loved one. Get to know them by name, talk to them about your loved one's care, and take a little time to get to know them (as they are able, of course.)
Go to events! Join caregivers, residents, family members, and the rest of the staff at community activities and events. It is a great way to see the engagement and to get to know those who care for your loved one.
Take part in care meetings. Care meetings are your opportunity to truly create a partnership with the care team and overall care plan for your loved on.
We are so proud that our team of professionals at Manor Lake Assisted Living & Memory Care here in Ellijay goes the extra mile to make sure our seniors and memory care residents are safe, comfortable, and happy. Come see for yourself!